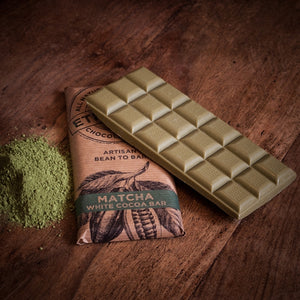 A dairy free alternative to white chocolate with matcha.
100% vegan and naturally grown ingredients. Created with a delicious high quality cocoa butter for a rich chocolate undertone, with a rice based alterative to milk, and japanese matcha green tea.

Ingredients: Unrefined Cane Sugar, Cocoa Butter (35%), Rice, Matcha Green Tea, Sunflower Oil, Vanilla Bean.
Size: 100g
Nutritional information available upon request