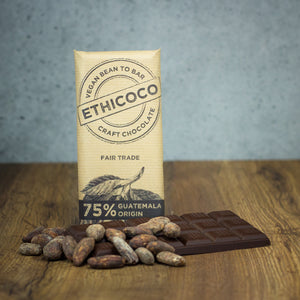 This fine dark chocolate is made with just two ingredients; Cocoa beans from Guatemala and unrefined cane sugar.
A dark chocolate packed full of tropical cocoa flavours, this chocolate has very little of the bitter overtones found in most mass produced dark chocolates. A deliciously rich and complex taste experience.
100% vegan and natural ingredients, no nasty artificial pesticides. Created from the highest quality cocoa beans for a full chocolate bursting with flavour that can only come from artisanal hand crafted chocolate.

Ingredients: Cocoa Mass (75%), Sugar

Size: 100g
Nutritional information available upon request.